Fossil Butte is a seemingly insignificant U.S. National Monument smack dab in the middle of nowhere. It's nearly 3 hours from any other National Park or Monument, 15 miles from the nearest city (Kemmerer, WY),  and about 1 hour from Interstate 80.
So unless you're trying to fill out your National Park Passport book or you're really into fossils, it can be hard to justify making the journey.
I'm going to do my best to convince you otherwise.
---
As a birthday gift in 2015, a good friend of mine gave me the 2016 Centennial Edition of the Passport to Your National Parks® book and I decided one of my new missions in life was to fill it with stamps.
I still have a ways to go with covering every page, but in October 2016 I took my second solo cross-country trip and knocked out a few of them. My favorite stop was Fossil Butte National Monument.
This is apart of my U.S. National Parks Series of posts. If you have your own story to share about Fossil Butte, leave a comment or contact me! I'd love to hear about your experiences 🙂
---
About Fossil Butte National Monument
Fossil Butte is an 8,198 acre (33.18km²) U.S. National Monument located in Lincoln County, Wyoming in the Southwestern portion of the State.
The area is a high cold desert, with sagebrush, Pines, and Aspens comprising most of the local vegetation. The wildlife in the area is mainly Mule Deer, Pronghorns, various birds, and sometimes Moose and Beaver.
I saw a bunch of Pronghorns.
Fossil Butte was designated a National Monument on October 23, 1972 for lots and lots of reasons: Lots and lots of fossils.
The monument sits on a 13 square mile section of what was once Fossil Lake (900 square miles), the smallest of the three Great Lakes during the Eocene Epoch 56 to 43 million years ago. The others were Lake Gosiute (up to 15,000 sq mi) and Lake Uinta (no sq mi data I could find). For reference, the current Great Lakes up by Michigan are 94,250 sq mi, so Fossil Lake was rather tiny.
However… Size isn't everything 😉
You can do a lot with a 900 sq mi lake and the ecosystem of Fossil Lake certainly did.
Generations of prehistoric plants and animals lived, died, sunk to the bottom of the lake, and were preserved in 2 million years of sediment (the lake dried up after this time).
Fossils are constantly unearthed in the park and are in such pristine condition (bones are found in place rather than scattered) that they offer scientists a host of data about the climate, how it changed, its effect on the wildlife present and also how that wildlife coexisted.
---
So Why Should you Visit?
There are quite a few reasons Fossil Butte was my favorite stop on this two-week journey. Here are a few:
Reason #1: The Fossils are Cooler Than you Might Imagine.
I mentioned earlier that the fossils in Fossil Butte (apart of the Green River Formation)  are anatomically right where they should be. This is highly unusual and only a handful of digs in the world can say the same. In fact, Fossil Butte has the highest quality fossils from the Cenozoic Era in North America.
The reason for these fantastically preserved fossils is that Fossil Lake was rather calm and undisturbed, especially in the lower sections of the basin, and the sediment was extremely fine. Because of this, as plants and animals died and decomposed in the water, they didn't move around much. The fine-grained rocks and sand drifted over the bones and plants, hardened and created beautiful Limestone windows to the past.
Some of the 300 casts and fossils on display at Fossil Butte:
Birds and bats and other flying creatures
Plenty of fish (some mass mortality specimens where large schools of fish die all at once)
Plants, plants, and more plants (which are vital to understanding past climate patterns of a given area)
Insects and flowers
Invertebrates
Mammals like early horses (seen above in the collage)
Reptiles and invertebrates
A 13 foot crocodile that's the first thing to catch your eye when entering the visitor center (comes complete with fossilized poop)
So yeah, nearly all types of once-living creatures can be found on display at fossil butte and you're guaranteed not to find anything as collective and well-preserved anywhere else in the U.S.
For more fossil images from Fossil Butte that I didn't capture, click here.
Reason #2: Truly Cool Exhibits and Activities
You'll notice this sign as you enter the park. As you continue driving, more signs pop up and the reason behind them begins to make more sense.
The signs take you on a to-scale journey through planet Earth's history.
9 inches = 1 million years.
So understandably, as you drive further down the road toward the visitor center, the signs get closer and closer together as more and more earth-shattering events (heh) take place.
The signs wrap around the visitor center and end on the present day with details about many of the events as they relate to Fossil Butte, the rest of the paleontological record, and humanity as a whole.
This exhibit gave me a minor existential crisis.
Dioramas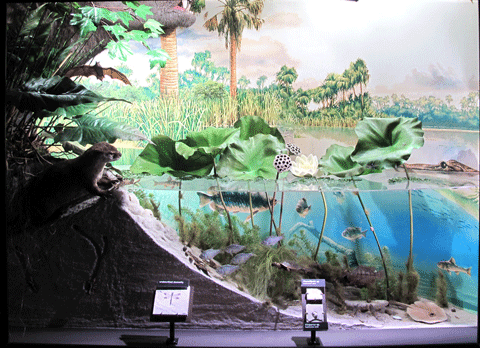 The Shoreline Diorama shows life along Fossil Lake's shallow shores during the Eocene Epoch. If showcases 10 arthropods, 10 plants, 1 bird, 1 reptile, and 3 mammals, all coexisting and fighting for survival.
Try to spot them all!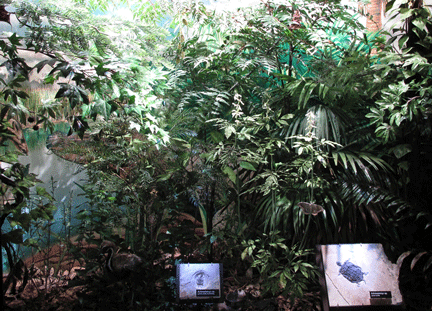 The Forest Diorama is a depiction of the land surrounding Fossil Lake. Many moons ago, you'd find thick forests and dense marshlands with flora much like woody flowering plants you'll find in Asia today. Looking at the diorama, it's easy to tell that the area was covered in a blanket of humidity, perfect for lush plant life to thrive and a far cry from today's high cold desert. Species on display include: 22 arthropods, 24 plants, 3 bird species, 1 mammal, and 4 reptiles.
It's fun to search for them all
Other Fun Activities!
Fossil Preparation Demonstrations

are available 10 am to 3 pm daily and show how scientists prepare and examine fossils for display

Ranger Talks

include a Monument Exhibit Tour where you can learn about all of the 300 fossils on display, a Fossil Butte Past & Present talk where you'll understand exactly how the area went from lush forests to a sagebrush ecosystem, and a Timeline Tour that talks you through the existential dread of the timeline exhibit.
The

Fossil Quarry Program

(Summer only) includes a Ranger-led 1/2 mile hike uphill to the Fossil Butte Research Quarry where you'll learn about the ongoing research in the area, help search for fossils, and record findings and notes. You can literally discover a fossil by taking part in this program any Friday or Saturday between June 16th and August 26th from 11 am to 3 pm. And now I want to go back so I can experience this.

Fossil Rubbings

are also available in the Visitor Center so you can take a piece of Fossil Butte home with you (and stick it on the fridge)
Reason #3: The Silence and Serenity is Perfect (and There are Hiking Trails!)
You'll notice after reading some of my blogs that I'm a lover of Nature in its purest form. The main reason I travel to these faraway places (specifically during the off-season) is to get away from the hustle and bustle of daily life. It helps me recharge, wind down, and find peace.
Unadulterated Nature is the closest I'll get to a religious experience.
For me, there's nothing quite like sitting on top of mountain (or a Butte in this case), with the nearest humans miles away, where I can let my mind wander and my eyes focus on anything in front of me, whether it be a hawk circling overhead, a beetle crawling on a pine bush, or a vast landscape that seems endless and full of possibilities.
A scenic road in Fossil Butte is exactly what I was looking for.
I visited in late October so it was rather chilly and windy, but the sun did its best at keeping me warm. The photo above was captured on the scenic drive road that leads 4 miles past the visitor center and up the Butte. It's a rather narrow and steep road and it turns from gravel to dirt (in my case mud) so I don't recommend taking an RV or trailer up it as there are very few areas to turn around.
The scenic road has three unmarked roads/trails (noticeable by the gates at their beginnings) that offer hiking opportunities:
Cundick Ridge

is a 2 mile out-and-back trail with a minimal elevation gain. It is accessed by the first gate on your right side.

Eaglenest Point

is a 2 mile out-and-back trail with some elevation gain. It is also accessed by the first gate.

Rubey Point Road

is a 3 mile out-and-back trail with some elevation gain. It is accessed by the second gate on your left side.
There are other trails near the visitor center that have more interesting sights to see.
The creatively named Nature Trail is one I would have loved to hike a couple weeks earlier.
As you can see by the map, it's a 1.5 mile loop 2.5 miles down the road from the visitor center. The reason I would have loved to visit a couple weeks earlier is because of the Aspen Groves that litter the trail. As you may know, Aspens are white-bark trees that look absolutely stunning during Fall because their leaves change to a bright yellow. It's gorgeous.
A fun fact about Aspens: A grove is actually one living organism, connected by the roots.
Another trail you can find before reaching the visitor center is the Historic Quarry Trail. It is a moderately strenuous 2.5 loop with a 600 ft. elevation gain. It's closer to Highway 30 than the other trails so you might hear the occasional 18-wheeler or train scuttle by (something I like to avoid).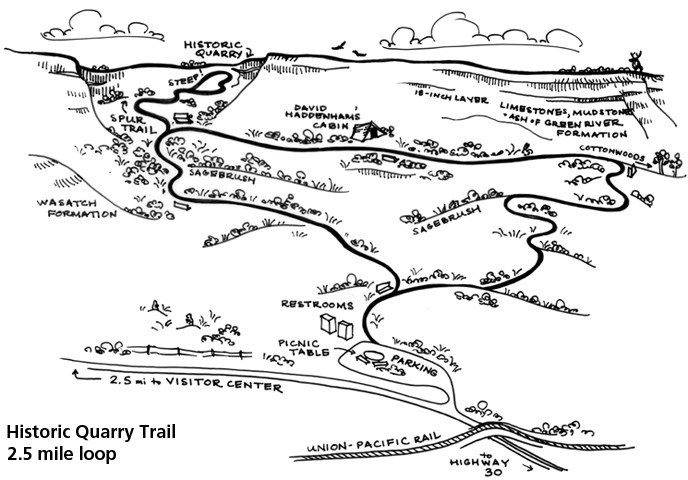 A short side-loop leads to the Historic Quarry and during the summer and the streams that wind through the area near the trail attract mosquitoes so be sure to come prepared.
Even though these hikes are rather short, that doesn't mean you shouldn't hike smart. Always bring more water than you need, wear sunscreen, pack some snacks, carry bug spray, bring your bear spray just in case, and always tell someone where you're going and check in when you get back.
---
In Conclusion
At first glance, Fossil Butte National Monument may not seem like it's worth the detour. Hopefully I've convinced you otherwise because this rarely-visited gem is well worth a day trip.